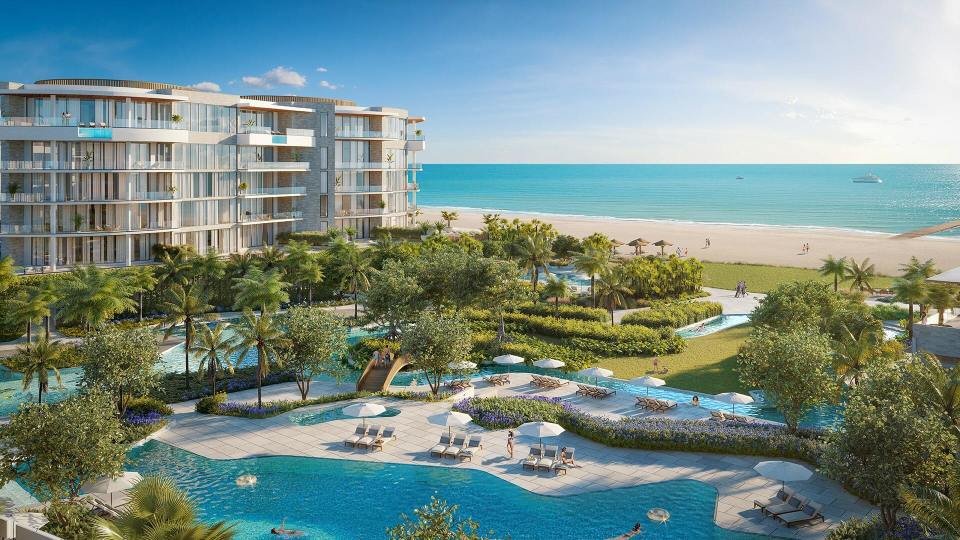 Here's a Peek at the New Residences at St. Regis Longboat Key
Completion of the project, on the site of the former Colony Beach & Tennis Resort, is slated for the spring of 2024.
After years of legal wrangling, the Residences at St. Regis Longboat Key is finally breaking ground on Oct. 25.
"There was tons of legal stuff in the background, and we've been working on this for eight-and-a-half years, so we're excited," says Charles Whittall, CEO of Orlando-based Unicorp National Developments, the company spearheading the project.
The property will include a 166-room luxury hotel and three six-story residential buildings containing 69 luxury condominiums, with prices starting in the $2 millions. Eighteen one- to four-bedroom floor plans are available, many with sweeping views of the Gulf of Mexico.
St. Regis is part of Marriott International's portfolio of luxury brands, and residents will be able to access resort amenities at the adjacent St. Regis Resort & Spa. Other perks  for homeowners include multiple swimming pools and a spa,wellness center, butler and concierge services, daily housekeeping, on-site pet grooming and chef services, and Bentley and chauffeur service.
Since sales kicked off during the fall of last year, roughly 80 percent of the residences have sold, according to Simon Bacon, executive director of the new homes and condominium department for Michael Saunders & Company, which is representing the developer. To date, total sales amount to more than $300 million.
One unit is under contract for $20 million. It technically comprises two units in size and is a "fully customized build," says Bacon. "The buyers came in early enough to accommodate it."
Whittall also pointed out that since project inception, building prices have increased due to national spikes in material prices and labor shortages. Due to demand, prospective buyers may have to wait before purchasing one of the handful of units remaining. "Because of the overwhelming response, we've slowed sales down until groundbreaking," Bacon says. That's scheduled for Oct. 25, with completion in the spring of 2024.
The 17.6-acre site was the longtime home of the Colony Beach & Tennis Resort, which for decades was an internationally renowned vacation destination and a favorite spot for locals. The Colony closed in 2010 after a lengthy legal battle. It was demolished in 2019.