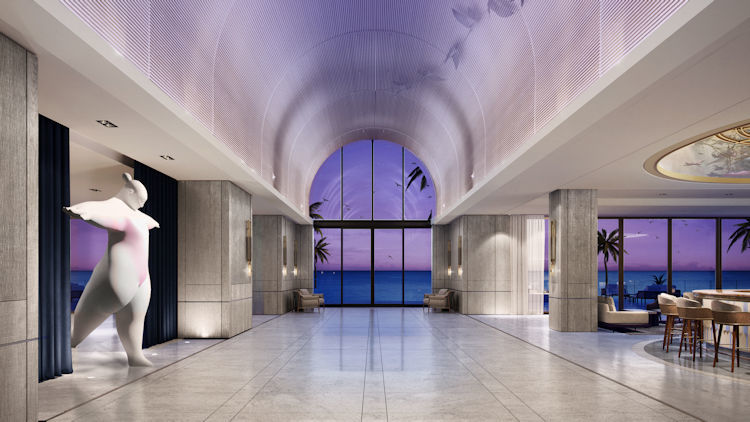 Design Revealed for The St. Regis Longboat Key Resort and Residences
SB Architects, an international architecture firm celebrated for creating spaces that capture the history, culture, and context of each location, reveals the design for The St. Regis Longboat Key Resort and Residences, a new resort community nestled in the beautiful white sands of the Gulf of Mexico. Situated on a barrier island outside of Sarasota, Florida, The St. Regis Longboat Key is scheduled to break ground in fall 2021 and will deliver luxury seaside living with the amenities and service of a world-class, five-star resort upon opening in spring 2024. Developed by Unicorp National Developments, the elegant 166-room resort and 69 private luxury condominiums will be distinguished both for the property's architectural expression and the level of luxury that the St. Regis brand will bring to the locale. SB Architects is working alongside Hirsch Bedner Associates Miami (HBA), Marc-Michaels Interior Design, and Enea Landscape Design to bring the vision to life.
Comprised mostly of glass, the buildings feature clean lines, fine detailing, and soaring floor-to-ceiling windows that draw in natural light and showcase stunning coastal views.
An immersive experience begins the moment guests and residents arrive, as they enter through a canopy of jacaranda trees. Inside, an entry corridor enhances the view to the ocean through an immersive, barrel-vaulted digital ceiling, where ambient lighting reflects the sky's spectacular sunset colors daily. Projectors display graceful birds across the ceiling intermittently, capturing a sense of movement and bringing the outdoor environment inside.
In addition to drawing inspiration from dance-like moments in nature, including the skillful flight of birds along the shore, the resort interiors by HBA honor Sarasota's culture and history by gesturing toward the intersection of circus and dance. Sarasota is renowned for its performing arts – including The Sarasota Ballet – and for its circus heritage, owing to circus impresario John Ringling, who so loved Sarasota that he chose it for the winter quarters of Ringling Brothers and Barnum and Bailey. Showcasing a clean and natural palette of colors, the contemporary interiors leverage these local insights in subtle touches, such as rope-like chandeliers suspended from the ceiling; an oval-shaped ballroom inspired by aerial rings; and in the St. Regis Bar, a center feature latticed like a circus cage rising into the ceiling.
In the guestroom corridor, carpet patterns are reminiscent of local ocean currents while flowy drapes drawn over artworks and dramatic lighting add an element of theatrical surprise. Resort guestrooms and luxury residences offer unobstructed views of the ocean, with glass railings creating seamless connections between the outdoor living spaces and natural surroundings. Guestrooms feature wood paneling in the living area and subtle touches of color. Careful layering of materials, such as ceiling paneling with wood grain on the underside of the exterior balconies, complements the natural palette in the interiors and adds a sense of warmth to the architectural expression.
The resort features a 20,000 square foot St. Regis Signature Spa, a salt-water lagoon with live fish and sea life, and an open-air Sunset Bar overlooking the Gulf of Mexico, in addition to a meandering drift stream, heated infinity edge pool, beachside event lawns, and business meeting facilities. The private condominiums – ranging from approximately 1,500 to nearly 6,000 square feet – comprise three six-story buildings and offer residents access to the amenities at St. Regis Resort & Spa, in addition to their own dedicated private amenities, including a waterfront pool and spa with a privacy sundeck and Resident's Clubhouse featuring a world-class Wellness Center with meditation and yoga studios. Each residence will feature expansive terraces – some with infinity edge plunge pools – and a secured private access elevator opening directly into the residence.
Rendering courtesy of HBA Miami